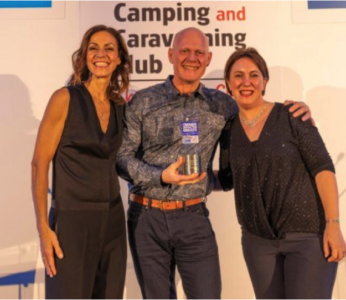 The winners of this year's Tent, Caravan and Motorhome Owner Satisfaction Awards have been revealed, and Auto-Sleepers have been awarded Best Motorhome Manufacturer (UK New and Used)!
Club President Julia Bradbury was on hand to present the awards at The Midland Hotel in Manchester on the evening of 17 January.
As in previous years, winners were crowned based entirely on the feedback given by the thousands of Club members, Practical Caravan and Practical Motorhome readers who completed the 2019 Owner Satisfaction Survey, which ran from February to November 2018.
"This year we introduced a new category – that for Best Motorhome Manufacturer (UK New and Used volume sales). This recognises the British manufacturer that impressed across the board." It was in this category that Auto-Sleepers took home the award, having been voted the Best Motorhome Manufacturer of 2019!
About the Awards
A total of 24 awards were presented at the ceremony, which is run by The Camping and Caravanning Club in partnership with Practical Caravan and Practical Motorhome magazines.
Robert Louden MBE, Director General at The Camping and Caravanning Club, said: "We are pleased to continue our annual celebration into the best products on the market at the 2019 Owner Satisfaction Awards.
"Over the three year's we've been running these awards jointly with Practical Motorhome and Practical Caravan magazines, we've collected invaluable feedback from tent, trailer tent, caravan and motorhome owners. This is then shared with manufacturers where appropriate to help to improve the quality and overall reliability of their products. Ultimately, this then helps consumers and our members to spend their money wisely."
Alastair Lewis, Managing Director (Hobbies) at Future Publishing, the publisher of both Practical magazine titles, said: "We're delighted to team up with The Camping and Caravanning Club once again to deliver this important survey of caravan and motorhome owners – our brands are all about helping people get the most out of their passion for caravan or motorhome travel and to buy the best kit to help them do that.
"This survey is an invaluable tool both for readers keen to get insight from other owners and for the industry to help them continue to deliver great 'vans and motorhomes and the highest levels of service for their customers. It's testament to the strength of our brands and their position in the market that this year we received more responses than ever before, and we continue to develop the survey and our presentation of it to best reflect the changing markets we operate in."
The caravan and motorhome awards both feature new categories for 2019, Best Motorhome Manufacturer and Best Caravan Manufacturer, awarded to the brands which score highest across both new and pre-owned categories based on UK new and used volume sales. Meanwhile, there was an increase in the number of 31-50 year olds who completed this year's Tent Owner Satisfaction Survey, with more people paying less than £100 for their tent.
The full results from the surveys, and detailed analysis, will be published in the February issues of Camping & Caravanning and Practical Caravan and the April issue of Practical Motorhome. To view the full list of gold and silver award winners in this year's awards visit: www.practicalcaravan.com, www.practicalmotorhome.com or www.campingandcaravanningclub.co.uk/owner-satisfaction-awards.