In fact, Auto-Sleepers Fiat 9 speed fully automatic transmission is on a Fiat Ducato chassis cab and is available as an optional extra. The innovative Fully automatic 9-speed is referred to as the 9HP.
It is  available in combination with the reliable 140hp and 180hp MultiJet3 engines and uses the latest generation hydraulic torque converter, which delivers an extremely relaxing, enjoyable driving experience.
So, the Fiat Ducato has the 140 bhp and a 180 bhp fully automatic gearbox is an option on all Auto-Sleeper Coach Built and Van Conversion models. Thus, providing the gearbox that ensures an easy, fuel-efficient drive and also has respect for the environment.
Auto-Sleeper
Fiat 9-speed Automatic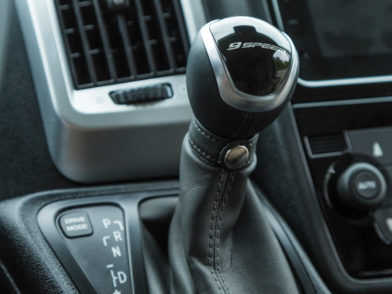 There is a 140 bhp option at £3,750 including vat and a 180 bhp option at £6,500 inclusive of vat.
Also, the Auto-Sleeper Fiat 9 speed fully automatic gearbox comes with a number of special features, all designed specifically for motorhomes.
The 9 speeds enable optimal use of the torque available to ensure fully automatic transmission takes advantage, you are able to enjoy the driving experience and ease of use.
The Auto-Sleeper fully automatic 9 speed gearbox is an innovative transmission and the advantages in its simplicity, fuel efficiency and performance, ideal for Auto-Sleeper customers who would enjoy an automatic transmission.
Fiat Ducato Gear Selector
Therefore, an extremely interesting option for those who love leisure, such as motorhome and van conversion owners. In fact this gearbox meets the demands of all those customers interested in the specific features of automatic transmission. Most find the Fiat Ducato gear selector easy to use.
In fact, there has been great attention paid to adapting and customising the gearbox for recreational vehicles, during the development stages extensive research was done to ensure a relaxing, enjoyable driving experience.
Both, in tuning and testing of the configurations on different surfaces, gross vehicle weights in typical motorhome conditions and in addition, to responding to the mobility needs of motorhome owners.
Happy to help you + 44 (0) 1332360222
Please feel free to contact us and arrange to see our Auto-Sleeper range in the showroom here in Derby. Also, take a look at the other premium pack options and details here.
Contact Us
Please contact us we are happy to help you