Sales Career With Derby Motorhomes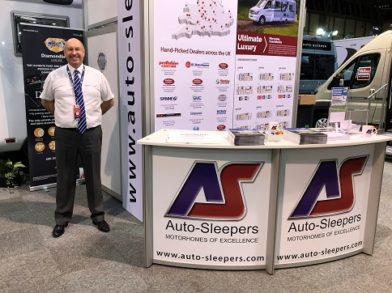 Are you looking for a sales career with Derby motorhomes? We are looking for self-motivated, well presented sales people who can hit set sales targets to join us here in our central location in Derby.
Derby Motorhomes are Auto-Sleepers motorhome specialists and the first motorhome dealer to exclusively sell and service Auto-Sleepers.
A sales career with Derby motorhomes will require you to maximise every opportunity to sell new and used motorhomes to our customers and will demand an understanding of our sales process as well as the ability to adapt to the individual needs of our customers.
We have been a leading Auto-Sleepers motorhome sales and service business for some time and will provide a full training and support programme to help you learn about the Auto-Sleepers product.
Sales Executive
If you are enthusiastic, self-motivated, customer oriented, well presented, professional and have a good sense of humour, you are just the person to fill the position of Sales Executive.The successful applicant, ideally, will have experience in a motorhome, caravan, car or a similar sales environment. A basic knowledge of computers would be an advantage, however not essential, as full training will be given.
This is a retail sales position and requires you to sell new and used motorhomes from our dealership in Derby and from time to time, while working at events away from the dealership.You will be expected to process your orders via our dealer management computer system, advise our customers old and new and interact via social media with potential customers.You are likely to be the first contact many of our customers will have with us, so you must be smart and presentable with excellent social skills, telephone manner and perfect grasp of English, both spoken and written.
Sales Career With Derby Motorhomes
Daily duties will include selling motorhomes, updating the customer database, customer follow-up and general showroom duties. Our industry relies on external events to promote sales and Derby Motorhomes attends a limited number of these various events throughout the year; you will be expected to attend these events representing the company and selling motorhomes. Overnight hotel accommodation is sometimes required which is paid for by the company.
The position carries a very competitive salary and commission package including mobile telephone, company branded clothing and fuel expenses when attending events. We are looking for a friendly, confident and capable individual able to deal with all ages and character of customers, sometimes under pressure and remain calm and professional always.Key Skills include: Proven ability to sell, Excellent Communication Skills, Flexibility, Excellent Customer Care Skills, Competent with basic administration. A Full, current UK Drivers Licence is essential
Key Objectives
For a sales career with Derby Motorhomes
Selling new and used motorhomes and general Sales duties
Some administrative duties including letters, quotes, prospecting mail etc
Ordering new, sold vehicles from manufacturer
Customer liaison
Completion of necessary sales paperwork and input into the company computer system
Promotion of Derby motorhomes, its products and services including social media and web site updating
Ensure a high level of customer service is maintained always
Performing any other ad hock tasks, as required, that may contribute to the overall performance of the dealership
Must be fluent in English, competent with maths and able to write competently
Excellent verbal communication skills with the ability to convey information to both customers and fellow team members
Stability under pressure – reacts positively to change and remains calm and positive despite setbacks
Able to work as part of a team
Reliable and responsible; takes pride in the quality of their work
Hours of work are full time and requires weekend and bank holiday working. Some Flexibility will be required around busier times of the year.A rota is operated allowing some weekends off as well as week days off.As part of the Derby motorhomes team, if you excel in your role, you will be given the opportunity to further your career with additional training opportunities and future progression.
So, if you can create an opportunity rather than wait for one to happen apply now.