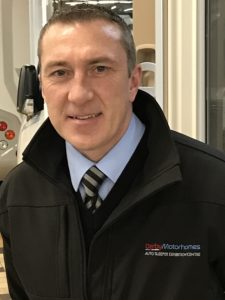 Introducing Stuart Carter Service and After Sales Manager.
"In any organisation the "after sales" department is probably the most important service on offer. Once the customer has taken delivery of their motorhome, we aim to offer them the best after sales service possible".
"In fact, our technicians have vast Auto-Sleeper experience. Therefore, they know about the product we sell, this helps them deal with any problems".
"Also, we always aim to repair or rectify your motorhome in one visit, if possible. Having the full backing of a Auto-Sleeper ensures our warranty and parts department, have the ability to source the correct parts". 
"Don't forget, as a department, we offer habitation services to help you maintain and keep your Auto-sleeper in tip top condition. Also, making sure everything is safe to use. Any accessories advice is available here at the exhibition centre".
Any problems please contact me or a member of the team
Kind regards Stuart.
After Sales Service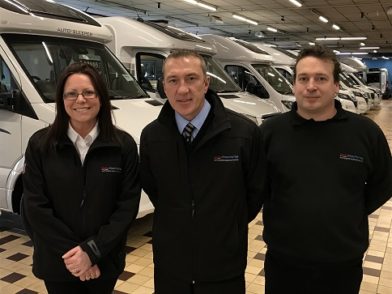 So, having built our reputation selling brand new Auto-Sleeper motorhomes, in fact, we have been the leading Auto- Sleeper independent dealer for some years now.
Our after sales team has been the backbone to our success. Also, the process your new motorhome goes through, before you take delivery is a stringent test.
In addition, every part of your new motorhomes, equipment is tested before it is then handed to our valet department, for it's final preparation.
Awaiting a handover may be stressful as well as exciting.
Stuart with Hayley Elliott and Dan Cape
Because, if something goes wrong with your new motorhome or campervan, we will always be available to help. Nobody wants to experience a fault, but if that does happen we will do everything as quickly as possible to put it right.
Even if it is just to get peace of mind and reassurance from one of our professional technicians. We regularly answer questions on after sales on the Auto-Sleeper forums and Auto- Sleeper owners clubs website.
Habitation Service
We are happy to help you keep your Auto-sleeper in tip top condition. Please contact us if you need advice on anything related to an Auto-Sleeper motorhome. Especially, after sales and repairs.
All Auto-sleepers models £278.00 inclusive of VAT
Keeping your Auto-sleeper servicing up to date is important. Especially, when you want to sell your vehicle. Thus, new owners and dealers alike are happy to see that you have taken the trouble to look after your vehicle.
Fully Appointed by Auto-Sleeper
In fact, working with Auto-Sleeper you can depend on us providing you with a great service. Auto-Sleepers have been going for over 61 years manufacturing motorhomes. Auto-Sleeper are now in the ownership of the large French motorhome group Trigano. So, now they have a huge support from one of the largest leisure groups in Europe.
We deal with the factory service centre direct, to ensure that we obtain the correct parts. On motorhomes built in the past, some may have different white goods fitted, than ones on today's new models. Auto-Sleeper advise what are the right parts, this saves a lot of time.
Service in Derby Cathedral Quarter

If you fancy a walk round the Cathedral quarter in Derby we are minutes away. There are some nice shops and cafes close to the Cathedral.
Happy to help you +44 (0) 1332 360 222 (press option 2)
We retrofit and supply motorhome accessories to enhance your motorhome. Also, we can obtain replacement parts and extras that you are looking for. If in doubt please ask us we are happy to help you.
Request a Service or Repair
Simply tell us when you want the work done we will confirm back to you