Newsletters from Derby Motorhomes 
Hello, Tim here,
I was sat in my office starting to put together our first 2018 newsletters and thinking wow, what a start to 2018. Yes, the motorhome season is upon us again and a big hello, from everyone here at Derby motorhomes. We certainly have got of to a real flying start! Also, reading the industry news, it looks like the leisure industry is set to grow even further.
Putting together our newsletters, certainly highlights some of our developments and progress to-date. So, we started this new year by extending our special offers from December, to run until the end of January.  Thus, this was due to the demand of our offers, both on new and used Auto-Sleeper motorhomes. We virtually sold all our used motorhomes in stock. However, we have more coming in part exchange.
We will keep all customers updated via our newsletters page.
Tim Lemon – Sales and Managing Director.
Newsletters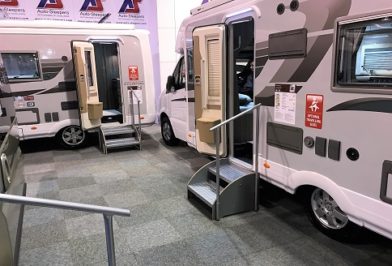 During January, we found that some customers were still away on Xmas and New year vacations. However, customers again rang in and reserved both new and used motorhomes, with a deposit taken over the phone! In fact, if ever you need to do that, just let us know, we can set up a deal and take a deposit securely.
Therefore, reserving the motorhome that you want to buy and saving you time. Make a secure contact with us. You can contact us by phone, text, email or online chat. We will always help to get a deal done, if possible, there and then. Also, we know that many of our customers are busy people and a quick call or chat online will help you secure that deal.
Hence, our website and its information, is growing, as is our reputation for being a leading Auto-Sleeper dealer. We continue to get nice comments from our customers. As many customers already know, we are growing the business at a great pace. We have recently made some changes to our team but more about that later, in our people power section.
Motorhome Season Kicked off
February is a crucial month in the leisure industry as everyone begins to see those Spring signs appear in the garden. Thus, popping down to the storage yard, checking over your motorhome and thinking about a change, often "springs" to mind, (forgive that pun – please). In addition, I'm just setting you thinking – why not have a look at a new motorhome? At our dealership, a show or online and hey presto, the seed of change has been sown. It must be that Spring fever beginning to tempt everyone out for some fresh air.
Driving Customers Interest
Yes, our new website continues to amaze us and demonstrates, time and again, how easily customers are finding us. Just type "Derby motorhomes" into Google. Two clicks of the mouse and you can "live-chat" to a member of our team!
Our investment in the new website has really helped customers to find what they are looking for. In fact, with the introduction of our VR (virtual reality) videos too, customers can look at specifications in more detail.
The online chat option puts you directly in touch with a team member. Therefore, helping customers, in a fresh, modern way, gather information for motorhomes. In fact, we have more developments planned and will keep our customers, old and new, fully informed. Our new Youtube channel is now online.
New Twitter Page
Also, we have a new Twitter channel being built. In addition, we will be introducing a Linkedin company profile shortly. If you're a customer and would like us to link or like your social media pages, please let us know. We like to see the motorhomes that we have sold in action. So, any images you have are most welcome. Any good, old holiday flicks are always worth looking back at. As we know, most motorhome owners, give the motorhome a name. So, we are going to organise and run a competition for the best named Auto-Sleeper soon – just for fun!
Motorhome Deals
We believe our customers deserve attention to detail. As they say, the devil is in the detail! Especially, when looking into quotes and specifications. In fact, due to the amazing response from our 2017 new motorhome special deals and our used motorhome special offers. We made sure that our details of specification and deals on offer, were clear and concise.
Occasionally though, our best deal may not look good enough! So, that is when we want to know what deal are you looking to find. It is quite possible you may be offered an old model elsewhere, or even a "run out" deal. Sometimes, even a promise of a delivery date!
Please don't take everything you may be offered at face value! Let us help you to make sure you have a like for like quote. Whilst an offer might sound like a good deal today, when you come to sell your motorhome, you may be in for a shock! Here, we really do care and want you to get a great deal and a fair one too! So, if you need to know what certain models should have or what are extras or packs – please ask us. We will be happy to explain everything in full detail.
Shows
We will, again this year, be out on the road at selected outdoor shows. As always, we extend a warm welcome for you to pop along and share a coffee and a chat.
If you're thinking about changing your Auto-Sleeper, or even have another make, we'll be delighted to make you a top, part exchange, offer. As always, we are hoping to have some exceptional show deals available all year round, so don't miss out.
Offers from Derby motorhomes. Just see what Richard in our sales department can do for you. As if our offers are not enough, those who are unable to order a new Auto-Sleeper in February, there's always a deal to be had. We also have a brilliant offers to help new Auto-Sleepers buyers any time.
Marks and Spencer Vouchers
Hence, we will give £250 worth of Marks and Spencer vouchers to each customer ordering a new Auto-Sleeper in March. Marks and Spencer vouchers are distributed at handover during collection of your new motorhome. We believe that everyone buying a new Auto-Sleeper deserves something extra.
Our fantastic offers will give you that little bit extra. Once you've experienced how well we look after our customers, you won't want to go anywhere else, ever, again. We also pay for one year's membership of the Auto-Sleeper owners club as well!
Part Exchange a Pleasure
We again, would like to take your motorhome in part exchange. We will do our very best to provide you with a top part exchange price, whatever the make of motorhome. How-ever you may choose to buy, we'll do all in our power to get you the best deal.
Showroom Update
We'll shortly be doing some work on the showroom to help provide even better facilities for sales and service customers. All the 2018 Auto-Sleepers models will soon be on display for your inspection here in Derby. So, please, pop in any time and see us, a warm welcome awaits you. Also, that dream Auto-Sleeper motorhome deal – it may be easier to obtain than you first thought.
Simple, Polite Contact
Setting new standards. If you tell us what you would like to be notified about, we'll let you know in advance regarding what we have becoming available. Our used motorhomes can be found on our website under the "used" menu band and under the "arriving soon" menu. We can set up a contact point for you and contact you via a personal email, text message or phone call. For those many customers who already know us, you know that we "keep it simple" and help when asked. So, you're not going to be deluged with sales calls.
Sale Introductions
We've been looking for ways to say thank you to customers for introducing friends and relations. In fact, we have found a way to help anyone recommending us and getting us a fresh sale. We will, for genuine, fresh sales taking place, reward customers who recommend us, with £100 in Marks and Spencer's vouchers.
So, all you need to do is fill out one of our new vouchers and give it to a potential customer. They, in turn, present it to us at their first point of contact. Hey Presto, if they buy from us, we reward you! It's just our simple way of saying "Thank You"!
Business Changes
We have implemented some changes in the way we manage the business. Hence, combined with last year's exceptional growth in our sales and after sales services, changes were needed. In addition, to administrative changes, we believe we have made some very positive changes with personnel too. We mentioned, in previous newsletters, the new dawning at Auto-Sleeper with Trigano Group taking control.
So, to put that even more into perspective, the Trigano Group's turnover for 2017 was heading towards circa 24 Billion euros! Flipping heck, now that is a lot of money! In fact, that shows the confidence in the Auto-Sleeper products, via the acquisition they have made. Therefore, your feedback will be very much appreciated regarding our changes and new services being introduced.
Hayley Elliott
Hayley Elliott, known to all our customers, has been promoted to become our Accounts and After Sales Manager. Hayley, as mentioned, is very well known to our existing customers and loves a challenge.
So, when it comes down to making things "tick", Hayley is right there in the thick of things. Hayley is also joined by another face and name well known to our customers, Stuart Carter. Stuart is also promoted and becomes After Sales and Service manager.
Building an exceptional team of people with exceptional motorhome knowledge is what every motorhome manufacturer dreams of. That is why we handle a lot of motorhome warranty work. In fact, many motorhome warranty claims are minor things, like a cabinet not closing correctly or a setting not being selected on the control panel. Here in Derby, if you have a warranty problem, ask us to help you, even if we didn't sell you the motorhome, no problem.
Stuart has a wealth of experience after working as our workshop manager for many years and is looking forward to this new, personal challenge. Having an experienced team is so helpful for our customers. Also, having someone in charge who has actually fitted a cycle rack properly or set up a heating system to come on at the right time, is invaluable.
Stuart Carter
Stuart and Hayley have already set themselves some pretty-high targets for improving our customer services and our customer experience too.
Providing improvements to the day to day management of the department. This will also be a year of transition and constant improvement in line with and supporting the management changes.
In addition, we are actively seeking to recruit more new team members to work in both sales and after sales. Providing a real, dedicated service that is backed up with real experience must be the way forward.
We are really looking forward to Hayley and Stuart combining and providing a really great customer service experience. Stuart Carter commented, "We are committing to improving every aspect of our after sales operations and customer experience.
In addition, we will continue to carry out our handovers here, on site, in Derby". "Assisting in the handover process is Daniel Cape, who everyone knows, Daniel is our expert in this field. Hayley and I are looking forward to welcoming old and new customers in 2018 and beyond".
Dan Cape
This month we introduce you to Daniel Cape. Dan has worked for us for nearly 12 years and is very well known to our many, Derby Motorhomes, customers. Because, Daniel has completed handovers on hundreds of motorhomes sold to our customers, they treat him as a friend. Daniel really does like to help people, he gets lots of customers ringing him directly if they are stuck!
Therefore, the handover is all about intimate product knowledge and how to pass that knowledge on, to a customer! Daniel has such a wide knowledge of Auto-Sleeper motorhomes, it is not uncommon for the factory to ask Dan a question. Over the years, our practical handover experience has proved a valuable source of information for customers.
In addition, Daniel is also one of our technicians and helps service and repair them too. No job is too big, small or complicated for Daniel. In addition, our customers are reassured that we have such an experienced set of motorhome technicians, alongside our ace in the pack, Dan the motorhome man!
Derby Motorhomes Staff Support
We are totally committed to ensuring that you know about our vehicles, our business and our offers. Also, with regards to our offers, to understand how long they are running for. Most importantly, we expect our staff to ensure that they support you throughout your transaction and beyond. We believe that our after-sales department is second to none. So, if you feel you need more information, why not join our newsletter? It comes out every month and updates you on offers and what's happening in the world of leisure.
Call, Pop In or Look Online
Feel free to visit the dealership at Chapel Street, Derby, DE1 3GU. Give us call, 01332 360222 – option 1 for sales, Richard or Tim. Option 2 for after sales and service, Hayley or Stuart. Option 3 for accounts. Visit our online presence https://derbymotorhomes.com – our totally secure website.