Well, you may well know a lot about Facetime, but, do you know about our Facetime Derby Motorhomes services? In fact, we think we have forgotten to tell everyone, that we have them available.
So, here goes, we use Facetime 9 times out of 10 to show customers around a motorhome for sale. Therefore, this helps us to sell motorhomes. In fact, it also helps us to service motorhomes.
No, we do not change the oil and filter online, yet! But, we do use Facetime to help after sales and service customers, to understand features and help solve any problems.
Facetime Derby Motorhomes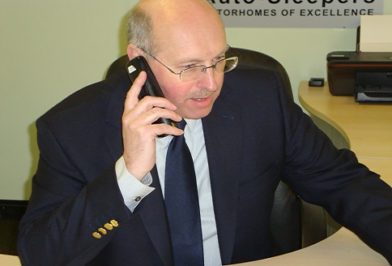 Because, the service is just so easy to use, (even we can use it)!
Tim Lemon our MD commented;
"This is a simple way to communicate and show customers around a motorhome and for customers to do likewise".
Before, we go any further, you need an Apple ID and a product like an iphone or ipad, to use this service. (apparently it may work with an app).
All you need to do is make sure that Facetime is activated on your Apple iphone or ipad.
Just go to settings select the green Facetime icon, follow the instructions. ( also you are able take live photos during some Facetime calls).
To connect, contact us, tell us with your email or mobile number and await us to Facetime call you back. Click accept and we can be showing you around motorhome in a matter of minutes.
Service on Facetime.
Also, if you buy from us we provide a free, comprehensive, handover but, sometimes things need further explanation. Yes, customers do forget, sometime a quick call helps customers to understand, how things work!
For example, you are abroad and something on your motorhome is not working. Simples, (no don't ring those meerkats Sergei or Alexandra), ring our after sales department and they will organise a Facetime call for you.
After Sales Facetime a Team Member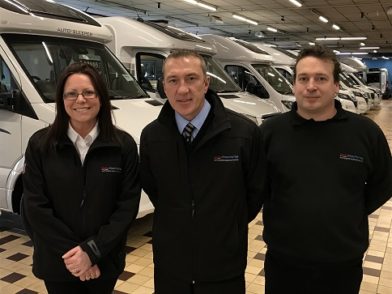 This after sales service Facetime call, is for our customers who have brought an Auto-Sleeper motorhome from us.
However, if you are an Auto-Sleeper owner who did not buy from us, no problem we will help you.
We will charge none supplied customers an admin fee of £30 plus vat to help via a Facetime call, (payment via credit card in advance of the call).
Again 9 times out of 10, we will know the answer to most questions during the Facetime call.
However, if we are unable to help you, we will credit the £30 fee to come off your next service with us. Or for example, if we end up doing the repair, then we will refund the £30 fee.
This is more of a goodwill service and our call can only last 30 minutes.
But, this should help explain what you need to do. Provide you with some peace of mind and help you on your way! Also, we will not conduct a call while the motorhome is being driven!
Sales Facetime Service for Customers
Interacting with out sales team, is an ideal way to talk customers through a deal.
We have a chat on line facility, on our website. Thus, you can request a Facetime call when online.
Part exchanges and motorhome for sale, are easily to be displayed in a Facetime call video!
All customers need to do to get a price, is to Facetime the motorhome for us for a look round.
Show us the extras and even documents, likewise on our used Auto-Sleeper motorhomes, we can show you inside the actual motorhome!
So, you may know what it looks like from a photo online or video. But, here we actually show customers around in Facetime time. Questions are able to be answered there and then!
Also, this service puts a name to a face and introduces you to our sales team members.
Introducing Mike from the Sales Team
Mike will be happy to help you and show you around on Facetime.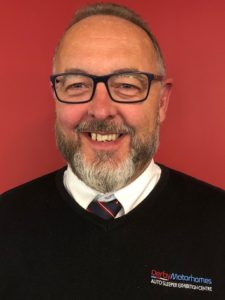 Mike commented;
"Sometimes a customer may have travelled a long way to see our motorhome. (Aberdeen for example)! This is a large capital outlay and they may have gone home to think about it.
"So, instead of travelling again to see the motorhome, they Facetime me and we sit in the motorhome and answer any further questions, this really helps us to provide more answers and show them the details".
"Also, most people like the service, as there is no pressure to make a decision and many buy from us when they know that the Facetime support extends to after sales".
Motorhome Finance
We are fully FCA (financial conduct authority) approved. Therefore, customers may want to have a private call to discuss their motorhome finance requirements.
A Facetime call is an easy way to provide your details and get a proposal put in place. Also, this will make any questions easy to answer and help customers to understand all, of the motorhome finance options.
Never Miss an Offer
Another scenario, is for customers who see if we have a special offer. Maybe a customer is not sure of the availability. For example you have looked at one before and want a little refresher, to be certain of the specification.
In fact, you do not want to miss the deal and want to discuss the details in private. No problem, Facetime Derby motorhomes and we can discuss the best deal, there and then.
Happy to help you + 44 (0) 1332 360222