So, no doubt this year's NEC Motorhome Show 2018 holds a lot in store for Auto-Sleepers and ourselves at Derby motorhomes. We certainly are looking forward to attending this next show. As before we will be on the Auto-Sleeper stand and look forward to meeting you.
Auto-Sleepers will be at the motorhome and caravan show 2018 and will be displaying the entire 2018 Auto-Sleeper range. Come and say hello to us and them on stand 6.55/6.49. Ticket costs are as follows;
Adults £9.50 in advance | £13 on the door
Senior (60+) £8.50 in advance | £12 on the door
Children aged 15 years and under go FREE
NEC Motorhome Show 2018
Win tickets to the show
Yes, you can win tickets for the show from Auto-Sleepers motorhomes, just follow this link. This year the October NEC motorhome show covers the 17th to the 22nd of October.
Anyone who has not been to this event before will really like it, there is lots to see and do. In fact, it is a really well attended show both from a vendors and customers prospective.
Private Appointments Available At the NEC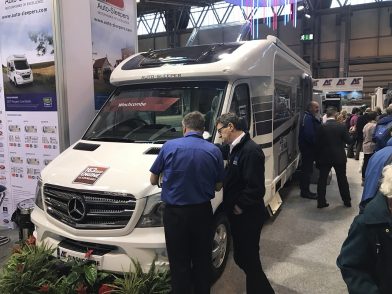 Also, we will be taking private appointments at the NEC motorhome show and in our Derby showroom.
This is for all our existing customers and anyone needing some free advice on the Auto-Sleeper motorhomes ranges.
We continue to offer Free advice on any questions that customers may have on the run out 2017 and the new 2018 models.
Our online motorhome finance quotes are available and our sales team are on hand to help with valuations for part exchange.
NEC Motorhome Show 2018.
This is the real closing show of 2018, a year we have seen more new customers buying Auto-Sleeper motorhomes. We have found a huge interest in most models and there is no doubt that this will continue.
2018 an Exciting Time to Come
Auto-Sleeper luxury motorhomes and van conversions are becoming really popular. They have the looks and interior designs that stand out. With Mercedes Benz luxury now having habitation air conditioning as well as cab air conditioning.
Other changes in interior finishes provides the coachbuilt and AL KO models with a new fresh look. Also, the van conversions are getting really popular and a face lift is inside. Our 2017 to date has reflected in more sales of 2017 motorhomes and tremendous interest for the new 2018 models.
Used Auto-Sleeper Wanted
Yes, we are very keen to offer you a part exchange price on both Auto-Sleepers and other makes. In addition, you can make an appointment to see us at the NEC motorhome show,
Therefore, you will be able to discuss valuations and any finance that you may require in advance. Finding your budget before you buy does make sense.
Auto-Sleeper Exhibition Centre
The NEC motorhome show 2018 is not just a great day out, it is a good way to see all the models in one place. To that end our first 2018 display models have started to arrive in the Derby showroom.
This will no doubt be part of our continuation of being a leading Auto-Sleeper dealer. We continue to run the very successful Auto-Sleeper exhibition centre here in Derby.
So, anything you miss at the NEC just pop to see us in Derby at any time. More NEC motorhome show 2017 news is on their website.
Directions to the NEC
Derby Motorhomes Appointment at the NEC
If you cannot make the NEC motorhome show pop in and see us in Derby.
Happy to help you + 44 (0) 1332 360222
Contact Us
Please contact us we are happy to help you