Auto-Sleepers R US they really are and we have a large range of new and used Auto-Sleeper motorhomes. In fact, many used ones that have come in part exchange for our New Auto-Sleeper motorhomes.
Our Auto-Sleepers stock is ever changing as we sell them in Derby and Nationwide. If you think about motorhomes in Derby, think about "Derby motorhomes"! Think about Auto-Sleepers R US! Yes, we have sold a lot of Auto-Sleepers from our Derby premises and 2018 models are here now on display. So, come on down the price is right!
Auto-Sleepers R US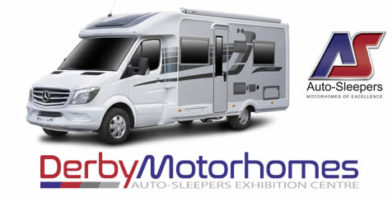 In fact, to let you get the picture take a look at the quality of these dream Auto-Sleeper motorhomes.
We have an extensive knowlage of the coachbuilt luxury Mercedes Benz and Peugeot range.
Why is that? Well, we specialise in selling just Auto-Sleepers from inside our 27,000 square feet showroom here in Derby!
Our team here has developed into one of the top Auto-Sleeper independent motorhome dealerships.
Not only do we sell them, we service them as well. Being established for over fifty years, shows that Auto-Sleepers know how its done. Here at Derby Motorhomes we deliver that dream Auto-Sleeper motorhome.
Dream, Discover, Explore and Save with Derby Motorhomes
Dont take our word for it, take a look at some of the motorhomes we have sold and have available for 2018. It is not rocket science, but owning an Auto-Sleepers is close to being on top of the world!
Our Sales and Service team are here to help you every step of the way. Whilst it may be your dream, sometimes we make people's dreams come true! Discover and Explore with our experts here at Derby Motorhomes.
Need that little extra help?
Most of all SAVE on your next Auto-Sleepers motorhome with a Derby Motorhomes "Special Offer". So, feel free to  just ask for more information. We have all sorts of promotions going on, don't dream on, dream Auto-Sleepers R US at Derby Motorhomes where else!
Making Auto-Sleepers dreams come true for over six years! Yes, the Auto-Sleeper Exhibition Centre lives on here in Derby, the first of its kind! Our online branding is making people realise that an Auto-Sleeper is much more that just a dream. They are here for your inspection so, take away that nightmare with our help and get peace of mind.
Happy to help you + 44 (0) 1332 360222